Residential Moving? – At Helms Electrical we strive to offer the best service to our customers. So we have put together a package that will allow us to help you with your new home. This includes an inspection of the service, a reading of individual circuits and much more. We also assist our customers by recommending contractors who share similar standards and practices of our own.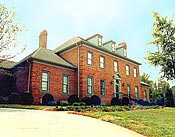 You love a beautiful yard and you've spent time and effort creating the perfect outdoor environment for your home. Now add a little night magic with landscape lighting. Not only will it make your yard, garden, or pool round-the-clock usable, landscape lighting can also enhance the natural beauty of your outdoor areas and create moods and effects never seen in daylight.
With a set of controls, homeowners can turn lights on and off or change the intensity of the lighting over different parts of the landscape. Thus they can alter the mood of their landscape form subtle to dramatic with the twist of a dial. Each lighting system is specifically designed to suit the individual homeowner's tastes and the unique characteristics of the property. And it doesn't matter if the yard is large or small.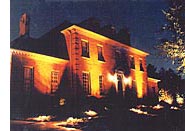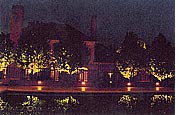 Installation of the lighting system is done carefully so as not to disrupt the natural beauty of the landscape. Fixtures are hidden and wires are laid in conduit underground by hand digging. When the work is complete, the outdoor area is returned to its original daytime beauty.
But when night falls, there is the difference! Now the landscape comes alive, glowing and softly reflecting the trees, flowers, and shrubs as light magic becomes night magic.